Getting your young horse under saddle in a safe manner and on your horse's terms
This is an online course for anyone who wants to learn how to prepare and get a young horse under saddle, step by step and to also have access to an experienced young horse trainer. For the equine process of learning to really function at its best, this course needs to be individually tailored without stress. The first period of the course needs to be between six to eight weeks long if we are to reach optimal conditioning and effect of the work. The horse will be learning so many new things that its psyche needs enough time to really process all the new information it has been given.
The course is divided into four parts where we will introduce the following among other things:
before the saddle; handling in the barn/stall, leading and longing
getting the horse used to the equipment, a saddle on its back, involving several steps
the mounting process, hanging across the saddle, sitting upright, riding, and teaching the aids
lunging and longlining in several steps
I, Karin Engström, have a long and solid foundation in working with young horses. My method is built upon the belief that the horse is to be slowly introduced to the work, to trust the trainer, to be conditioned, strong and balanced enough to be able to carry a rider. My experience is vast and encompassing in working with young horse – and rider education at Flyinge and Bollerup. I have several articles published in the field of young horse training and long lining in the publication Ridsport and lunging in the publication Hippson.
What do I get when signing up?
A solid course material divided up in to 5 chapters and 59 lessons 
Video clips and pictures in each chapter  
Tips on different exercises and what to think about for each level of training 
Access to the course materials for a whole YEAR!!  
You study independently and at your own pace
You may start the course at any time throughout the year so the timing will fit your and your horse in the best way possible
"All research points to the fact that the horse will stay sound longer if it gets used to working early on in life. Therefore, it is wise to have a solid plan for the first training period where the goal is to get the horse under saddle and rider."
About training a young horse via a course on the web
It is vital to understand that taking on the responsibility of training a young horse requires knowledge about horses and their behavior as well as plenty of experience in working horses from the ground as well as on their back. I can give you a method that is tried and tested and proven successful, and I can also be on hand online to advise should you run into problems. However, I cannot see or feel your horse as when working with the actual animal. I have worked with teaching young horse training for almost 20 years and have been actively part of the process too many times to mention. In this web course I must trust your judgement in whether you are competent enough to handle your young horse in new situations.
You need quick reactions, a good balance and have enough authority over your horse to get it both obedient and cooperative.  Have an assistant on hand during this time, preferably the same person throughout. This person too needs to be competent in riding and handling horses.
Fear does not belong with horses, remember that you always need to be a safe zone for your horse. If you are insecure you will be better off leaving your young horse with a professional young horse trainer.
I will take no responsibility for your results if you choose to train your own horse via this course. I will however help you understand the learning process when teaching a young horse and how to slowly build the body and confidence of these wonderful animals.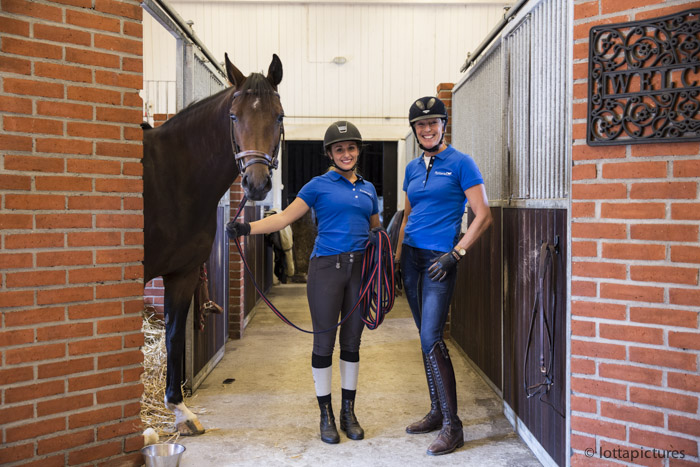 Welcome to this online training course "Starting and getting a young horse under saddle"!